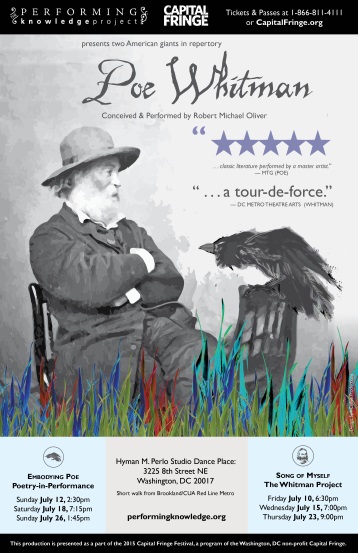 I'm in the midst of getting my lines down. Having reached 60, with a thick brain and aching bones, even learning lines is a struggle for focus. The good thing is, even the Poe lines, that I learned four years ago, are still bubbling around inside my head like a foreign language, and once learned, are easier to remember.
Fortunately, I love poetry, particularly Whitman and Poe.
Hope to see you at one of my shows!
Schedule is below.
Where:
Dance Place's Hyman M. Perlo Studio, 3225 8th St NE Washington, DC. located in Northeast's newly developed Monroe Street Market, within two blocks of the Brookland / Catholic University Red Line Metro Stop at 3225 8th St NE Washington, DC. There is also plenty of on-street parking near the theatre.
When:
Song of Myself: The Whitman Project plays on Friday, July 10, at 6:30 p.m. Wednesday, July 15, at 7:00 p.m. and Thursday, July 23, at 9:00 p.m.
Embodying Poe: poetry-in-performance Sunday, July 12, at 2:30 p.m. Saturday, July 18, at 7:15 p.m. and Sunday, July 26, at 1:45 p.m.
Tickets:           CapitalFringe.org or by calling 866-811-4111.
Tags:
2015
,
capital fringe
,
capital fringe festival
,
classical
,
dance place
,
douglas Fraser
,
Edgar Allan Poe
,
embodying poe
,
Eureka
,
hyman m. perlo
,
interdisciplinary performance
,
july
,
knowledge
,
matt miller
,
music
,
one-man show
,
performance
,
photography
,
Poe
,
poe whitman
,
poetry
,
poetry-in-performance
,
Robert Michael Oliver
,
song of myself
,
studio
,
the raven
,
the whitman project
,
theatre
,
ulalume
,
walt whitman
,
whitman