The Performing Knowledge Project came into existence 2011, 27 years after the birth of its predecessor, The Sanctuary Theatre.
Sanctuary's heyday was in the 1980s. Ti-Jean and his Brothers by Derek Walcott, Fanshen by David Hare, The Tree Climber by Tawfik al Hakim, the world premiere of An Evening with Chekhov and Gorki adapted by Thaddeus Whitlan from texts by Chekhov and Gorki were but a few of Sanctuary's magnificent achievements as an early member of the League of Washington Theatres.
After six years of furious production, however, and growing audiences and a gathering momentum, that incarnation of theatre disappeared from public view and traveled into educational venues. Sanctuary reemerged in 2007, with The acclaimed production of The Fate of a Cockroach, another representation of Egyptian playwright al Hakim's genius. But with The Performing Knowledge Project co-founders and life partners Michael Oliver and Elizabeth Bruce decided to take their theatrics in an entirely different direction. They entered the world of literature-in-performance.
Now, after three years of commitment and work, The Performing Knowledge Project has established itself as a unique provider of interdisciplinary performance, combining poetry and performance in 2011 with Embodying Poe, fiction and performance in 2013 with Legal Tender), and returning to poetry-in-performance in 2014 with Song of Myself: The Whitman Project.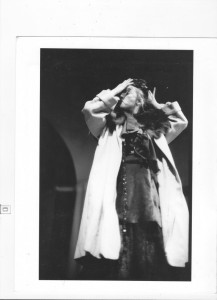 They run a monthly literary performance series at BloomBars entitled Performetry as well as two twice a month writing workshops, Writers on the Green Line and The Tuesday Group.
Meanwhile The Sanctuary Theatre continues its work: a poetry and performance workshop series for seniors: MEMENTOS.