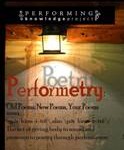 OLD POEMS, NEW POEMS, YOUR POEMS
The Featured Writer at the April 20 Performetry is none other than Sanctuary Theatre co-founder, co-director Elizabeth Bruce. Elizabeth, an accomplished writer and performer, has been entertaining literary and theatre types in DC for over 30 years. We are so glad that she finally agreed to share her work with us.
Elizabeth's novel, And Silent Left the Place, won Washington Writers' Publishing House's fiction prize in 2007 as well as ForeWord Magazine's Bronze Prize in Fiction and was a finalist for the Texas Institute of Letters' award for best work of first fiction. Since then, besides ushering her daughter and son into adulthood, she has been working on a collection of Flash Fiction, entitled Fifty Dollars." Nine of those pieces were included in the Performing Knowledge Project's 2013 Capital Fringe Production, Legal Tender.
During the day, Elizabeth works for CentroNia, where she runs a program for Pre-K students called "Theatrical Learning Journeys." In these highly imaginative adventures students explore the exciting world of science, from butterflies to sick Teddy Bears to erupting volcanoes. She has just completed her first series of 10 journeys at BloomBars. Another offering is in the wind.
Joining Elizabeth on Sunday, April 20, will be three guest writers from our series Writers on the Green Line: Sly, Suriya, and Marianne.
Additionally, Michael will perform a poem in honor of his upcoming birthday: he'll make sure its something unique, that fits whatever soup he prepares.
As always, we conclude our Feast of Words and Poetry with an open mic, so bring your most compelling "family friendly" works of song, short prose, or poems.
Performetry runs from 6:00 to 8:00 at BloomBars, 3222 11th Street, NW, Washington, DC. Street parking can be found in that neighborhood, but come a little early to find your space.
Joining the soup with be Michael's bread–oh, make that cake, and Elizabeth's special vegan dessert–or maybe that should be the cake. We'll work it out.
We ask for a suggested donation of $10 to support the good work of BloomBars – A Community-Oriented Arts Center