Sanctuary Theatre and The Performing Knowledge Project presented Embodying Poe: Poetry in Performance at the 2011 Capital Fringe Festival. This world premiere performance-piece by Sanctuary Theatre co-founder/artistic director is a ground-breaking fusion of the art of performance, the art of poetry, and the art of education. The poet Archibald MacLeish wrote "a poem should not mean but be." Oliver takes that phrase and applies it to seven of Edgar Allan Poe's poetic creations. Then he connects those pieces with original psycho-biographical narrative, interjecting original music and visually provocative backgrounds. The combined effect is a spiritual journey through Poe's "chaos of deep passion."
Embodying Poe opened on July 9 at 4:30, at Fort Fringe – The Shop, and it received rave reviews: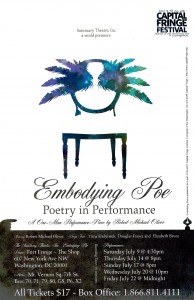 The show remains available for bookings in both theatre and non-theatre spaces alike. Fees are negotiable.
Call 202-529-3143 or email [email protected]
For more on the show click here.