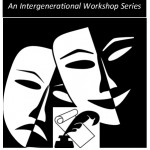 ACTING FOR WRITERS is an almost free, intergenerational 7-Workshop Series on using the actor's toolbox to deepen your character & narrative-driven writing!
In 2014 we will have two Acting for Writers programs, one in the winter/spring and another intensive one in the summer. Click here for the series that starts June 21, 2014.
Whether you are an experienced writer or are just beginning your journey, knowledge of the actor's craft, from the actor's understanding of objective and motivation to given circumstances and sense memory, will deepen your writing, giving you the ability to find new ways to develop characters and situations.
Taught by longtime writers and theatre artists Elizabeth Bruce, Sarah Pleydell, and Robert Michael Oliver, these workshops combine practical acting/writing exercises with a theoretical appreciation of the Method and beyond.
For a fact sheet about the Performing Knowledge's Acting for Writers Workshops click.
To register download the ACTING FOR WRITERS Registration Form and email [email protected].