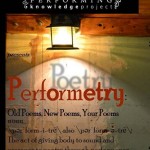 The Featured Writer at the July 27 Performetry will be none other than Akasha, wordsmith, aka Laneta J. Hill. A long time participant of the Writers on the Green Line community, Laneta will soon be leaving the DC area and this Performetry is her poetic bon voyage.
Laneta will be JOINED ONSTAGE on July 27 by the accomplished trumpeter JARED BAILEYI!
As always, we conclude our Feast of Words and Poetry with an open mic, so bring your most compelling "family friendly" works of song, short prose, or poems.
Performetry runs from 6:00 to 8:00 at BloomBars, 3222 11th Street, NW, Washington, DC. Street parking can be found in that neighborhood, but come a little early to find your space.
This summer feast will have fruit salad and not soup, but there will also be a host of other delicious eats and drinks. Elizabeth's special vegan dessert–or maybe that should be the cake. We'll work it out.
We ask for a suggested donation of $10 to support the good work of BloomBars – A Community-Oriented Arts Center