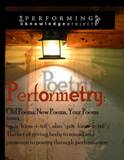 The Featured Writer at the June 15 Performetry will be a host of poets in the fabulous collection of Israeli and Palestinian poets in the collection BEFORE THERE IS NO WHERE LEFT TO STAND: Palestine | Israel: Poets Respond to the Struggle. Readers include Jean Freedman, Bonnie Morris, Stephen Bess and Mike Maggio.
Additionally, Robert Michael Oliver will perform a short section from his upcoming Fringe show, SONG OF MYSELF.
As always, we conclude our Feast of Words and Poetry with an open mic, so bring your most compelling "family friendly" works of song, short prose, or poems.
Performetry runs from 6:00 to 8:00 at BloomBars, 3222 11th Street, NW, Washington, DC. Street parking can be found in that neighborhood, but come a little early to find your space.
Joining the soup with be Michael's bread–oh, make that cake, and Elizabeth's special vegan dessert–or maybe that should be the cake. We'll work it out.
We ask for a suggested donation of $10 to support the good work of BloomBars – A Community-Oriented Arts Center