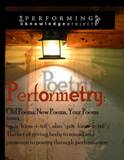 As I prepare for Part 3 ofSong of Myself at Performetry this Sunday, November 17 at 3:00–on my way to a full performance of the Interdisciplinary Whitman Project in early spring–I am once again reminded of just how daunting its epic structure is. Although th poem sings America's praises, it does so only secondarily. The central thrust of Whitman's epic is the process of empathy. In it Whitman seems to articulate a process of transformation or engagement; and at that transformation is empathy. In other words, Whitman engages the world around him, the people in all their diversity, through empathy: and he does this deeply and intimately, experiencing both the joys of life and their bitter sorrows.
After developing this poem for performance, and ironically it is a poem that lends itself to performance more than any I've done, not because it is easy, because its free verse is extremely difficult to tackle, but because its form and its content are all about performance and the actor's process. Foreshadowing Stanislavsky by decades, Whitman presents an actor's process whereby the person does not pretend to know and feel what other are. The person, in this case Whitman, steps into the existence of the other person, becoming their experience; in this way, he feels what they feel, knows what they know.
Such empathy is rarely discussed in today's world, either considered politically incorrect or a waste of time. For Whitman, however, it is elevated as an art form, a way not of being in the world necessarily, but most definitely a way of knowing the world. It is through empathy that Song of Myself becomes the Song of America and its people.
I certainly hope you get the opportunity to stop by Performetry at BloomBars this Sunday. The Whitman performance won't have the music and the photography but I'll be stepping out of a limb and really embodying the piece physically.
I'd love your feedback.
Plus, the Featured Poet is Yael Flusberg, and we do have that Open Mic for poems, stories, music and more.
BloomBar is family friendly, which means don't bring an HBO Special to share, and starting Sunday, Sanctuary's Performing Knowledge Project is providing a feast (mini) with soup, fruit, vegan desert and more. For direction to BloomBars, at 3222 11th Street, NW, Washington DC, click here.
Suggested donation: $10.
Tags:
creative
,
empathy
,
healing
,
performance
,
performetry
,
poetry
,
song of myself
,
theatre
,
whitman