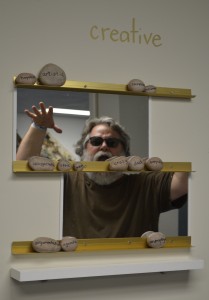 What do you get when you mix speed-dating, tweeting, and fifteen seconds of fame? You get a fast-paced poetry workshop that mixes performance techniques with the 10-second sound bite; and in the process discover the weight of words and their consequences.
This past Saturday, June 23, at Artomatic 2012, The Performing Knowledge Project presented a 90-minute "Theatri-Poetry" workshop, entitled "Weighing your Words".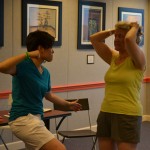 Participants in the 90-minute workshop exercised their imaginations, placing themselves and their vocabularies in situations that require the succinct expression of thought and feeling.  They then toured some of the exhibitions, writing poetic responses to some of the offerings by other artists.
The workshop was inspired by Jessica Beels and her Weigh your Words installation at Artomatic.  Michael Oliver and Elizabeth Bruce of Sanctuary Theatre's Performing Knowledge Project created and facilitated the session.

Tags: aethetic, artomatic, education, knowledge, Performances, poetry-in-performance, theatre, weigh your words, Workshops