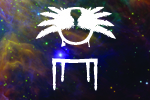 Embodying Poe, Robert Michael Oliver's one-man performance piece, opened to rave reviews in the 2011 Capital Fringe Festival.  "The Raven" and "Eureka: a prose poem" were two key ingredients to that success.
Timah Ruth Elisheva Howard, Community Engagement and Learning Director at CentroNiá, said, "Eureka feels like a standing prayer to Poe's creative triumph over his demons."  And, indeed, it is: a celebration of the marriage between poetry and science, between the universe within and the universe without, between human beings and God.
Please support Poe's Eureka.  Click here.
Tags:
edgar allan
,
Eureka
,
film
,
performance
,
Poe