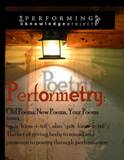 After a week's delay, Performetry opened on Sunday, May 5 at 3:00 p.m. at BloomBars. It was a friendly and diverse gathering of folks. And most importantly, we heard so great poetry and great music.

Gowri Koneswaran welcomed us to the award-winning BloomBars art space. Maya Oliver played MC and lent the afternoon an energetic upbeat feel.
Robert Michael Oliver got us started with the opening 25-minute section of Walt Whitman's original Song of Myself. Occasionally accompanied by recorded music by Matt "SwampGuinee" Miller and Doug Fraser, Michael's articulation of Whitman's epic drew out the poem's humanity. Michael will perform the second section of the poem at the June 23 Performetry. Next Fall, Michael will perform the entire piece, complete with music and photographs. The May 26 event will allow audiences to witness the film version of Michael's "The Raven," produced jointly by the Performing Knowledge Project and Barn Door Productions.
Guitarist David McKinley Ward followed with the first of his two sets of ballads, starting with four or five from his favored Ireland. He'd pick up that theme in his second set after our featured poet, adding in several ballads from the American folklore tradition.
Then came none other than the fabulous Carolyn Joyner. Carolyn gave us a glimpse into her soul with poems of love and protest, pain and joy, a wonderful swathe of different experiences and feelings to contemplate. She had created a compilation of various tunes, from blues to jazz, to lend flavor to her performance.
When the Open Mic began we were blown away by a fabulous performance by Peter Storey of an original unnamed poem about a mother's quest to find her missing son. His performance was followed by poet John MacDonald's clever, insightful poems and Mary Stone Hanley's gorgeous tribute to motherhood, "A Womb of Her Own." Elizabeth Bruce finished the event with one of her poetic Flash Fictions, "Cargo Pants," a piece to be included in Legal Tender, Performing Knowledge's entry into Capital Fringe Festival this summer.
All in all, the event was a fun, rapturous demonstration of the diversity that is the universe of Poetry in Performance.
Tags:
joyner
,
mckinley ward
,
music
,
oliver
,
Performances
,
performetry
,
poetry-in-performance