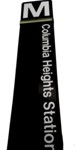 The Performing Knowledge Project in collaboration with CentroNia Learning Center offers the Intergenerational Writers on the Green Line Poetry and Short Fiction Workshops the second Saturday of every month September through June.
The workshops run from 12:30 to 3:00 and are facilitated by Robert Michael Oliver and an array of guest facilitators from Naomi Ayala to Abdul Ali and Carolyn Joyner.
CentroNia is located at 1420 Columbia Road, NW, Washington, DC.
You can keep up with all our activities through the DC Poetry Project: here.