Robert Michael Oliver Returns to Capital Fringe with
POE WHITMAN


A Repertoire of Two of America's Literary Giants

(Washington, DC) – Following last year's sold-out performances of Song of Myself: The WHITMAN Project, virtuoso solo performer Robert Michael Oliver brings Song back to the 2015 Capital Fringe Festival but in rotating repertoire with his 2011 hit Embodying Poe: Poetry-in-Performance. Song of Myself opens on Friday, July 10, 2015 at 6:30 p.m. at Dance Place's Hyman M. Perlo Studio, 3225 8th St NE Washington, DC. Embodying Poe opens two days later, Sunday, July 12, 2015 at 2:30 p.m. Song of Myself plays on Wednesday, July 15, at 7:00 p.m. and Thursday, July 23, at 9:00. The other two performances of Embodying Poe are on Saturday, July 18, at 7:15 p.m. and Sunday, July 26, at 1:45 p.m. Tickets are available at CapitalFringe.org or by calling 866-811-4111.
The two interdisciplinary performance pieces and Oliver's "tour-de-force" (DC Metro Theatre Arts) performance bring to life the poetry of two of America's leading literary figures, the 19th century giants Edgar Allan Poe and Walt Whitman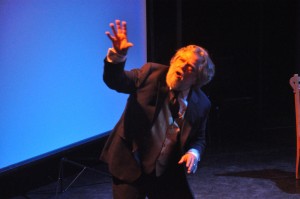 Best known for his short stories of mystery and the macabre, Poe always considered his passion to be poetry. In the interdisciplinary Embodying Poe Oliver takes 7 of Poe's most enduring, yet mystical, poems and weaves them into a haunting psychological narrative where "sublimity of performance and word unite" (City Paper). Centering the piece is Oliver's existential take on "The Raven." Embodying Poe concludes with an abridged version of Poe's final creation, the prose-poem "Eureka," about which Poe himself wrote: "I have no desire to live since I have done Eureka. I could accomplish nothing more."
The creative team for Embodying Poe includes musician/composer Douglas Fraser and art work by Harry Clarke, Paul Gustave Dore, Aubrey Beardsley, and others. Costumes are by Elizabeth Bruce.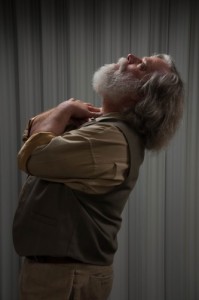 Song of Myself: The WHITMAN Project combines photography, music, and film to create a dynamic performance piece relevant to our time. Using the original, rawest version of "Song of Myself," Oliver takes Whitman's great American epic and rivets it down to a power packed 70 minutes, punctuating the text with photographs of American life from the 1850s to the present. Oliver's "gripping" performance turns "required reading into a required experience (DC Theatre)".
The creative team for The WHITMAN Project includes award-winning director/actress Holly Twyford as directorial consultant, as well as musicians/composers Matt "SwampGuinea" Miller, John McGrath, and Douglas Fraser, and photographer Francisco Rosario of Pyramid Atlantic Arts Center, sound designer Elliot Lanes, projection design by Jennifer Perry, and costume designer Elizabeth Bruce. Videographer Chad Lawrence worked with Oliver to create the production's films.
Basic Information about POE WHITMAN
Where: Dance Place's Hyman M. Perlo Studio, 3225 8th St NE Washington, DC. located in Northeast's newly developed Monroe Street Market, within two blocks of the Brookland / Catholic University Red Line Metro Stop at 3225 8th St NE Washington, DC. There is also plenty of on-street parking near the theatre.
When: Song of Myself: The WHITMAN Project plays on Friday, July 10, at 6:30 p.m. Wednesday, July 15, at 7:00 p.m. and Thursday, July 23, at 9:00 p.m.
Embodying Poe: poetry-in-performance Sunday, July 12, at 2:30 p.m. Saturday, July 18, at 7:15 p.m. and Sunday, July 26, at 1:45 p.m.
Tickets: CapitalFringe.org or by calling 866-811-4111.
Contact: Robert Michael Oliver; rmichaeloliver@msn.com.
Photos: For high resolution photos related to our show, please visit http://performingknowledge.org/performance-pieces-2/song-of-myself-the-whitman-project/song-of-myself-photos/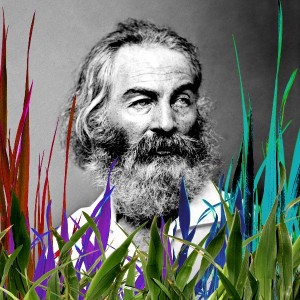 About The Song of Myself: the WHITMAN Project
Do you like to loaf? Are you "enamoured of growing outdoors"? Do you celebrate yourself? Is empathy your act of revolution? Does your powerful play go on? Walt Whitman's world famous Song of Myself in a back-by-popular-demand interdisciplinary one-man show, performed as ritual of transformation, with original music, photographs, and a film featuring over 50 local artists and activists from around the world.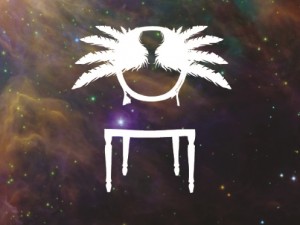 About Embodying Poe: Poetry-in-Performance
Embodying Poe personalizes Poe's poetic persona in a Feast of Words, combining psycho-biographical narrative, music, and visuals, with seven of Poe's explorations of Love, Death, the Universe, and his Demon. Includes "The Raven," "Ulalume," and selections from "Eureka!"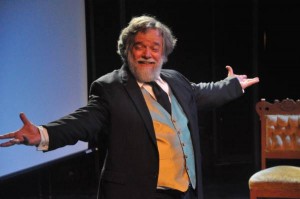 The Artist and Company
Robert Michael Oliver and The Performing Knowledge Project specialize in the performance of classical and contemporary literature. In 2011, they premiered Embodying Poe at the Capital Fringe Festival. In 2013, they offered local audiences Legal Tender: Flash Theatre for a Flash Fiction World. Last year they premiered Song of Myself.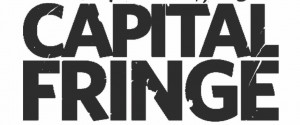 About Capital Fringe
Capital Fringe is a 501(c)3 nonprofit organization founded in 2005 with the purpose of connecting exploratory artists with adventurous audiences by creating outlets and spaces for creative, cutting-edge, and contemporary performance in the District. Capital Fringe's vital programs ensure the growth and continued health of the local and regional performing arts community by helping artists become independent producers while stimulating the vibrant cultural landscape in our city.