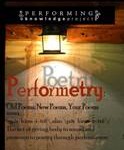 Old Poems, New Poems, Your Poems
Getting us going on the December 15 Performetry will be Matt "SwampGuinee" Miller's musicianship. He will offer us an array of percussion and interactive pieces, sure to liven your day.
Following Matt will be a tapestry of Green Line Writers: Naomi Ayala, Laneta Hill,Tanya Paperny, Anne Pellicciotto, Mahogney Turner, and Deirdre Wright. They will be sharing a variety of short piece, poetry and prose.
After our featured group, we will have an Open Mic. So bring your most compelling "family friendly" piece of short prose, poem, or song.
Performetry runs from 3:00 to 5:00 at BloomBars, 3222 11th Street, NW, Washington, DC. Street parking can be got, but come a little early to find your space.
Michael will be make his vegan soup and his whole wheat bread, with Elizabeth following with her special vegan dessert.
We ask for a suggested donation of $10 to support the good work of BloomBars – a Community-Oriented Arts Center